Gun Finger Vol 9 – WARD21 + JUNGLE ARMY
13 Agosto 2017
Gratuito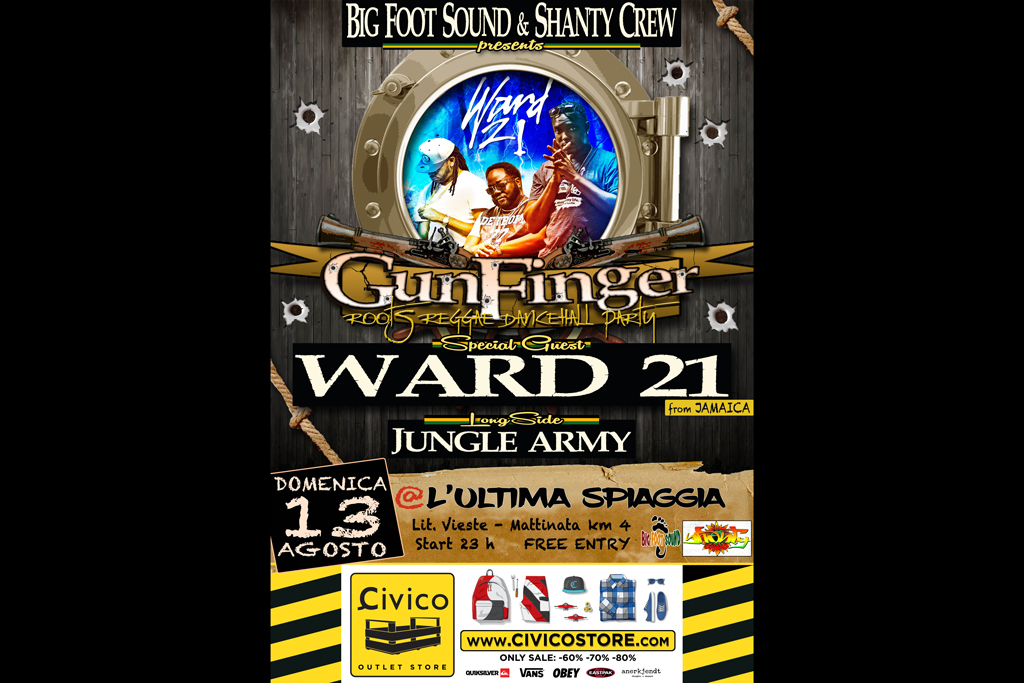 BIG FOOT SOUND & SHANTY CREW
sono orgogliosi di portare sul palco dell' Ultima Spiggia
un gruppo di spicco della scena reggae e dancehall mondiale
rudebwoy and badgyals
<<<<<WARD 21>>>>>
Long Side
JUNGLE ARMY
Domenica 13 Agosto
siete tutti invitati a questo eventone all'insegna della Reggae-Dancehall music
Start ore 23:00
come sempre FREE ENTRY!
BIO Ward21:
Ward 21 Music is a group of dancehall musicians and producers hailing from Kingston, Jamaica, named for the psychiatric ward at the University of the West Indies Hospital in St. Andrew. Ward 21 are renowned producers and have created hit dancehall riddims like "Bada bada", "Da Joint", "Bellyas", "Scareface" and "Volume" as well as hit singles like "Haters", "Bloodstain", "Rhyme", "Petrol" and "Judgement Day". Since 2002, the group tours Europe playing shows in Belgium, The Netherlands, Austria, Germany, Czech Republic, Slovakia, Switzerland, Sweden,Denmark, Norway, Italy and more. They've also performed twice at Europe's biggest reggae festival, Summerjam. They also perform regularly in many other regions such as Japan, Costa Rica, Panama, a host of Caribbean countries and all across the United States.
In addition to countless singles and tracks on compilations, Ward 21 have released four albums. The band had participated in a 311's remix of "Amber" remixed by Supa Dups, a number of other international collaborations, and also produced two tracks on Sean Paul´s multiplatinum selling Dutty Rock album.